Company Profile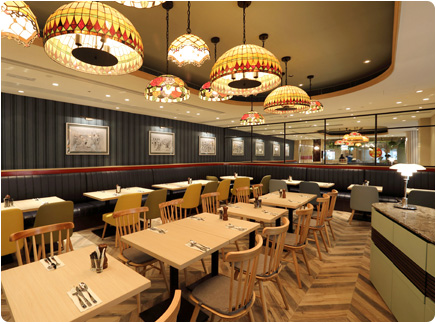 Established in 1979 by an Australian and a British, The Spaghetti House is a home-grown successful story pioneering the development of a much-needed mid-market western theme restaurant chain. It has been developed into the largest pasta restaurant chain in Hong Kong comprising more than 30 outlets in the territory and Southern China.
The Spaghetti House has built up its reputation as "Pasta Expert", bringing a wide variety of pasta to Hong Kong. Pasta from Italy, fresh vegetables, olive oil and high quality cheese selected from around the world, combined with expertise of our chef, making every dish a divine experience to our customers.
The full range of over 100 menu items, including "The 10 Classic Items" and "The 9 Best-selling Items", has been a competitive edge and a formula of success to out compete other similar specialty restaurants in the ever competitive environment of mid-market segment. In addition, we also develop seasonal and creative dishes from time to time.
With the increasing number of branches, interior design featuring The Spaghetti House's traditional cartoon pictures and tiffany lamps is constantly upgraded to provide the most comfortable ambience for dining.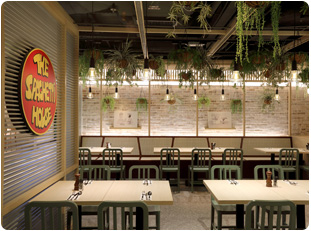 Our mission remains to offer you delicious dishes and attentive service in a relaxed and inviting setting. Your happiness and satisfaction are always our top priority!
Award list
Year
Awards
2021

Quality Service Retailers of the Year – Fastfood / Restaurants Category Award

2020

Quality Service Retailers of the Year – Fastfood / Restaurants Category Award
U Magazine - U Favourite Food Awards 2020 - "My Most Favourite Western Restaurant"

2019

U Magazine - U Favourite Food Awards 2019 - "My Most Favourite Western Restaurant"
Mystery Shopper Programme of Hong Kong Retail Management Association – Service Retailers of the year – Category Award - Fast Food/Restaurants Category

2018

U Magazine - U Favourite Food Awards 2018 - "My Favourite Italian Restaurant"
Mystery Shopper Programme of Hong Kong Retail Management Association – Service Retailers of the year – Category Award - Fast Food/Restaurants Category

2017

U Magazine - U Favourite Food Awards 2017 - "U Favourite Italian Restaurant"
2017 Service Retailers of the Year – Fastfood / Restaurants Category Award
Caring Company

2016

2016 Service Retailers of the Year - Fastfood / Restaurants Category Award
15-year QTS Merchant Recognition
Outstanding Mentor Award for Inclusive Organisation
HKIA Customer Service Excellence Programme - Mystery Shopper Programme Excellent Service Award (Restaurant)

2015

Caring Company Logo (2007-2015)

2014

Mystery Shoppers Programme Service Category Leader - Fastfood / Restaurants Category (Quarterly Result)
Best-Ever Dining Awards -
5 years+ caringcompany

2013

2013 Service Retailers of the Year - Category Award (Fastfood/Restaurants Category)
Service & Courtesy Award (Restaurants Category-Supervisory Level)
Labour and Welfare Bureau - 18 Districts Caring Employers 2012 Award
Mystery Shoppers Programme - " Service Category Leader - Fast Food/ Restaurants Category" in the period of Mar to May 2013

2012

Weekend Weekly – "Best Ever Dining Awards 2012" Italian Cuisine
Hong Kong Retail Management Association - Mystery Shoppers Programme - "Category Leader - Fast Food/ Restaurant Category" Mar 2012 to May 2012, Jul to Sep 2012
Labour and Welfare Bureau - 18 Districts Caring Employers 2012 Award
Labour Department - 2012/13 Catering Industry Safety Award Scheme – Group Safety Performance Award – Restaurants (Non-Chinese) – Bronze Prize
Labour Department - 2012/13 Catering Industry Safety Award Scheme - Catering Establishment Award - Restaurants (Non-Chinese) - Certificate of Appreciation - The Spaghetti House Kwai Fong Metroplaza Branch
Labour Department - 2012/13 Catering Industry Safety Award Scheme - Catering Establishment Award - Restaurants (Non-Chinese) - Certificate of Appreciation - The Spaghetti House Tsuen Wan Plaza Branch
Hong Kong Federation of Restaurants & Related Trades and Hong Kong Productivity Council - Qualified merchant of Quality Restaurant Environment Management Scheme - Hong Kong International Airport Branch Oct 2012 – Sep 2013

2011

Hong Kong Retail Management Association - Mystery Shoppers Programme - "Category Leader - Fast Food/ Restaurant Category" in the period of Mar to May 2011
Weekend Weekly – "Best Ever Dining Awards 2011" Western Cuisine Group Top 10
Labour Department - 2011/12 Catering Industry Safety Award Scheme – Group Safety Performance Award – Restaurants (Non-Chinese) – Bronze Prize
Labour Department - 2010/11 Catering Industry Safety Award Scheme The Spaghetti House Maritime Square Branch, Tsuen Wan Plaza Branch and Wanchai W Square Branch

2010

Hong Kong Retail Management Association - Mystery Shoppers Programme - "2010 Service Retailer - Fast Food/ Restaurant Category"
Labour and Welfare Bureau - 18 Districts Caring Employers 2010 Award
Labour Department - 2010/11 Catering Industry Safety Award Scheme – Group Safety Performance Award – Restaurants (Non-Chinese) – Bronze Prize
Labour Department - 2010/11 Catering Industry Safety Award Scheme – Supervisor Award - Restaurants (Non-Chinese) - The Spaghetti House Tsing Yi Maritime Branch
Labour Department - 2010/11 Catering Industry Safety Award Scheme – Supervisor Award - Restaurants (Non-Chinese) - The Spaghetti House Kwai Fong Metroplaza Branch
Labour Department - 2010/11 Catering Industry Safety Award Scheme - Catering Establishment Award - Restaurants (Non-Chinese) - Certificate of Appreciation - The Spaghetti House Tsing Yi Maritime Branch
Labour Department - 2010/11 Catering Industry Safety Award Scheme - Catering Establishment Award - Restaurants (Non-Chinese) - Certificate of Appreciation - The Spaghetti House Kwai Fong Metroplaza Branch
King Of Catering Award 2010 – "The King of Spaghetti"
Openrice.com - The Best Restaurants Awards 2010 – "The Best Italian Restaurant"

2009

Labour Department - 2009/10 Catering Industry Safety Award Scheme – Group Safety Performance Award – Restaurants (Non-Chinese) – Merit Prize
Occupational Safety & Health Council - Best Occupational Safety & Health Employees Award Scheme - Frontline Staff Section - Merit Prize
The Hong Kong Council of Social Service - Caring Company -
Capital Magazine - Capital Outstanding Enterprise Award 2009 - "The Best Chained F&B Brand Enterprise"
Openrice.com - The Best Restaurants Award 2009 - "The Best Italian Restaurant 2009"
U Magazine - U Favourite Food Awards 2009 - "U Favourite Western Cuisine"
Hong Kong International Airport - 2008/09 Airport Staff Safety Recognition Award - Role Model on Safety

2008

Hong Kong Retail Management Association - Mystery Shoppers Programme - "2008 Service Retailer - Fast Food/ Restaurant Category"
Labour Department - 2008/09 Catering Industry Safety Award Scheme–Group Safety Performance Award–Restaurants (Non-Chinese)–Merit Prize
Labour Department - 2008/09 Catering Industry Safety Award Scheme - Catering Establishment Award - Restaurants (Non-Chinese) - Certificate of Appreciation - The Spaghetti House Tsing Yi Maritime Branch
Labour Department - 2008/09 Catering Industry Safety Award Scheme - Catering Establishment Award - Restaurants (Non-Chinese) - Certificate of Appreciation - The Spaghetti House Whampoa Branch
Labour Department - 2008/09 Catering Industry Safety Award Scheme - Restaurants (Non-Chinese) - Safe Workers Award - The Spaghetti House Tsing Yi Maritime Branch
Hong Kong Retail Management Association - Mystery Shoppers Programme - "Category Leader - Fast Food/ Restaurant Category" in the period of Mar to May 2008
Hong Kong Retail Management Association - Mystery Shoppers Programme - "Category Leader - Fast Food/ Restaurant Category" in the period of Nov 2007 to Jan 2008
Hong Kong International Airport - Airport Environmental Best Practice Competition - 1st Runner-up
Hong Kong International Airport - Customer Service Excellence Programme 2007/08 - HKIA Best Service Award
Labour Department - 2007/08 Catering Industry Safety Award Scheme–Group Safety Performance Award–Restaurants (Non-Chinese)–Bronze Prize
Labour Department - 2007/08 Catering Industry Safety Award Scheme - Catering Establishment Award - Restaurants (Non-Chinese) - Silver Prize - The Spaghetti House Tsing Yi Maritime Branch
Labour Department - 2007/08 Catering Industry Safety Award Scheme - Catering Establishment Award - Restaurants (Non-Chinese) - Certificate of Appreciation - The Spaghetti House Whampoa Branch

2007

Hong Kong Retail Management Association - Mystery Shoppers Programme - "2007 Service Retailer - Fast Food/ Restaurant Category"
Hong Kong Retail Management Association - Mystery Shoppers Programme - "Category Leader - Fast Food/ Restaurant Category" in the period of Mar 2007 to May 2007
Hong Kong Productivity Council: The Best Brand Enterprise Award 2007 - "Certificate Award for the Best Brand Enterprise"
Hong Kong Retail Management Association - Mystery Shoppers Programme - "Category Leader - Fast Food/ Restaurant Category" in the period of Nov 2006 to Jan 2007

2006

Hong Kong Retail Management Association - Mystery Shoppers Programme - "Service Category Leader - Fast Food and Restaurants Category" in the period of Jul 2006 to Sep 2006
Hong Kong International Airport - Zero Work-related Injuries Award - Winner for the First Year 2005-2006

2005

Airport Authority Hong Kong: Airport Environmental Best Practice Competition - Best Continual Improvement
Best of the Best Awards MTR Advertising - Finalist Poster of the Year for ads of "Fusion Combination" and "Fight"(Fondue) by JC Decaux

2004

Metro HK Print Ad Award 2004
Best of The Best Awards MTR Advertising - "Poster of The Year Award 2004 - Silver Award" by JC Decaux.
Best of The Best Awards MTR Advertising - "Most Favourite Poster 2004 (Passenger voted) - Silver Award" by JC Decaux
Hong Kong Retail Management Association - Mystery Shoppers Programme - "Service Retailer - Catering / Food "

2003

Hong Kong Retail Management Association - Mystery Shoppers Programme - "Service Retailer - Food and Catering Category"
MTR Property Management - Total Quality Service Regime
Quality Tourism Services - Hong Kong Tourism Board

2002

Hong Kong Retail Management Association - Mystery Shoppers Programme - "Service Retailer - Food and Catering Category"
Quality Tourism Services - Hong Kong Tourism Board

2001

Quality Tourism Services - Hong Kong Tourism Board

2000

Hong Kong Award for Services : Customer Service - Hong Kong Retail Management Association
Quality Tourism Services - Hong Kong Tourism Board
Hong Kong Award for Services : Customer Service - Hong Kong Retail Management Association

1999

Hong Kong Retail Management Association - Mystery Shoppers Programme - "Service Retailer - Food and Catering Category"

1998

Hong Kong Award for Services : Customer Service - Hong Kong Retail Management Association

1997

Hong Kong Award for Services : Customer Service - Hong Kong Retail Management Association